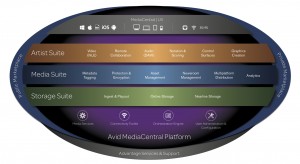 Usually, my annual presence to the National Association of Broadcasters (NAB) convention begins on Sunday.  That day, I generally attend the key press conference, that gives me the chance to know what the large players in the broadcast market are focusing on before the show floor opens on Monday.
This year, I got to Las Vegas early so I was in town in time for Saturday. This is the first day of the conferences. In the press conference list, Avid was listed as having it's press event at 9:30 on Saturday (April 5) at the Bellagio hotel. As I attended their events in the last few years I was expecting a somewhat intimate event with maybe 50 people in attendance. Instead, there was a room with over one thousand people. Then, I realize that there was no press event but that the press was invited to attend the opening session of an event they call "Avid Connect", a gathering of their newly formed "Avid Customer Association".
Roll the drums…
Avid's President and CEO Louis Hernandez, Jr did prefaced it's announcement with a warning that this was the company's most significant introduction in it's history. This milestone is called the "Avid MediaCentral Platform" and it delivers on the company's "Avid Everywhere" strategy. That strategy was unveiled last year at NAB by Hernandez who was just beginning it's tenure as CEO.
MediaCentral is basically applying Salesforce.com to the media market. It's a platform that allows applications to be used though the cloud on multiple platform and in full collaborations.
I won't enter in the details of their offering or how this works as Avid is doing a good job at that but I'll focus on a few significant points;
-The platform allow for interaction of Avid's applications like Pro:Tools or Media Composer but just like Salesforce.com, it will be possible for 3rd parties to deploy application that that platform.
-Avid have not disclose prices yet. They gave us a press kit (a USB kit) after the event and I asked them about pricing and they told me that it was in the press kit. I did look through it but I did not find it. Therefore, it is hard for me at this time to comment on the depth of the impact that this might have on the marketplace as price is always a significant factor.
-Avid present that as an open platform in the sense that third parties can deploy apps on it. I don't know the conditions of that however so it is hard to judge. One thing is clear, if you need to be an Avid Customer and pay them a fee to access the platform even if you want to use someone else application though it, then it is not what I consider something truly open. For that mater, I don't consider Salesforce.com open.
Securing customers
In a market where the high end is constantly shrinking, Avid must have realizes that their business model was in real danger. It is most probably what let them to create that "Avid Customers Association". Having an image where you listen and take care of those customers is becoming almost a question of survival. There is less of them, so each one become more precious.
The other part of that equation is making sure that those customer are well attached and secured to your organisation. Their MediaCentral platform does that. The idea is to always go through Avid and rely on them even if some products that you use are from third parties.
Mr. Hernandez want less competition and he made it clear by saying that the professional industry has too many vendors and too many small vendors. It is a self serving message and if I was a customer that would make me worry.
I remember Avid in the 90s, before Final Cut Pro when they were the only game in town. At the time, it was an incredibly arrogant organisation. They did not listen to the market and dictated how things were. That did changed in the last 5 years and Avid became a much easier vendor to deal with. They had to, it was a question of survival.
They continue in that direction of listening more with this customers association but how can we be sure that they won't come back to the old ways once they attached people on their platform? It's true that is not much alternatives out there. Apple as move on to the consumer electronics market and don't care much about the pro AV market and players like Adobe is focusing more on the independent professionals not on the high end needs of big players.
Extending the market
The concept behind MediaCentral is great on paper and we will see the result in its execution. The market for the lower end of the market is constantly expending. There is more video production than ever and that will continue.
Corporations are an becoming a significant market for pro AV. If they really achieve to market MediaCentral as a Salesforce.com for media and make it affordable for corporations and independent professional to use it, then they may reach a whole new market indeed. It is a very good strategy and we will have to see the execution to see if it will fly. It will be interesting to watch it as it unfold. Competition will not remain still. You can bet that Adobe, Autodesk and Quantel to name a few will try to see if they can do that better than Avid. None of them is as well equipped at this time to do that so they have an advantage for now.